Hope you had a great weekend and an enjoyable Father's Day.  Each year I become more appreciative of both Mother's and Father's Day as I realize the vital importance both Fathers and Mothers play in the very fabric and backbone of our society.  Politics, economics, business – just about everything – depends on Fathers and Mothers passing on shared values such as hard work, respect, and thoughtfulness to the next generation.  Without it, we will disintegrate!  It's admittedly a challenging journey (spoken from someone in the middle of that journey) but certainly a rewarding one if given the same attention and effort that most of us give our work.
HOUSING DEMAND
Speaking of work – apparently, we need more apartment buildings. A recent report done by Rosen Consulting Group says there has been a severe lack of residential development that has trailed population growth since 2001 and created a gap of 5.5 million to 6.8 million housing units of all kinds, including rentals.  The report notes that "The scale of underbuilding and the existing demand-supply gap is enormous and will require a major national commitment to build more housing of all types." 
The lack of smaller apartment buildings being added to the current inventory of rental units was noted as a driving factor for the worsening affordability crisis. Bottom line, no one wants to build smaller properties and get minimal returns when you can make more on a passive investment in larger deals.  And with the cost of insurance skyrocketing, real estate taxes on a tear, construction materials hitting new highs, and payroll costs increasing due to the shortage of skilled labor, I don't see this situation getting any better anytime soon.
The Rosen report notes that developers would need to build more than 2 million housing units per year over the next 10 years to fill the underbuilding gap – equating to a 60% increase in housing starts each year, relative to the almost 1.3 million homes that were built in 2020.  That's a huge increase – one which our economy most likely couldn't even handle from a labor constraint standpoint.  If building were to continue at its current pace of about 1.7 million units per year — the most rapid pace in more than a decade — it would take more than two decades to create the needed 5.5 million units.
According to CoStar, the average apartment rent in the United States was $1,401 per month in the first quarter of 2021 compared to $1,079 per month in the first quarter of 2011.  Despite those increases, as those of us in the business know, margins aren't going up on this end of the picture, so something has to give.  I think wages need to increase at the low end of the spectrum so I'm a big supporter of Fed Chairman Powell's stated goal to increase both employment participation rates and wage growth.  It's more about balance than anything else, and obviously wages can't just go up without a commensurate increase in prices. I also think we need to double down on incentives for small business owners to build, generate, and grow jobs.  Small businesses account for 70% of the job growth in America!
Neither is helped by blanket eviction moratoriums and massive handouts which typically incentivize people NOT to work and NOT to pay their rent.  I am hopeful that we'll see some thoughtful legislation at some point in this process. 
GOVERNMENT REGULATION IN HOUSING INDUSTRY
To some degree, the overall shortage in housing has been caused by a marked increase in government regulation of the housing industry.  For example, zoning ordinances that restrict development. San Francisco is notorious for its stringent zoning ordinances, and this is part of the reason San Francisco has a severe housing affordability problem. With a median selling price of over $1.3 million for a home, San Francisco is the most expensive city in the country. This type of situation contributes to construction, labor, and land costs increasing faster than inflation and, over time, making housing increasingly unaffordable.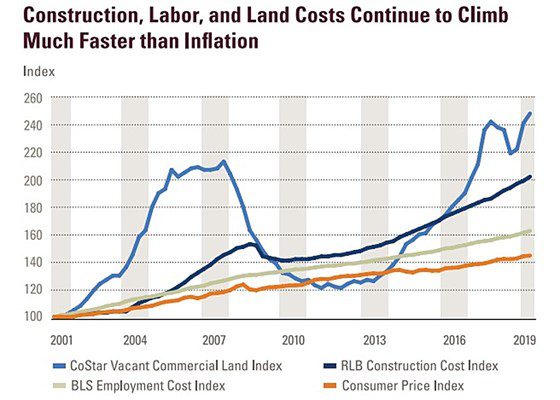 BOTTOM LINE
We're in a great position as multifamily investors as we continue to capitalize on a multi-decade imbalance of supply and demand that will continue to drive rents (and opportunity) our way.
Thanks for reading and have a great week!