A Trip to Washington, DC
---
Over the past couple weeks we've had some ongoing discussions about the CDC eviction moratorium. I thought I would share a little about how we're handling the situation, given the massive impact on apartment and rental communities.
EVICTION MORATORIUM
The CDC eviction moratorium is currently in place until June 30, 2021. Per the CDC website, this order prevents the eviction of tenants who are unable to make rental payments. It also keeps people out of crowded settings, like homeless shelters, by preventing evictions and thus stopping the spread of COVID-19. In order for residents to qualify, the following must be true:
Make less than $99,000/year (individually).
Unable to pay their full rent because of loss of hours of work, a lay-off, or extraordinary medical expense.
Use best efforts to make as close to full payment of rent as possible.
The eviction would likely render the resident homeless.
HOMELESSNESS AND COVID-19
There are two focus points here – homelessness and COVID-19.
As to the first point – we don't want millions of people to end up homeless. I think we can all agree with that in principle – leaving aside the discussion of personal responsibility. Our frustration with a national eviction moratorium is that the vast majority of homelessness was and still is concentrated in California, Oregon, Washington, and New York. These states also arguably had the most draconian shut-down–affecting businesses and employment. So in some ways it could have been a self-fulfilling situation. I believe the decision to have an eviction moratorium should have been a state level decision so that those with higher risk could have been addressed individually.
As to the second point – if the focus were stopping the spread of COVID-19, I think there would have been a greater focus on delaying the re-opening of schools as well as shutting down the rioting/protests which have blanketed the entire country. I support free speech and public education. However, given the massive undue hardship on landlords across the entire country, it makes me think that our focus on safety was more lip service than reality. Do we really care for the health and safety of our rental communities?
OWNERSHIP AND MANAGEMENT
In the graphic below you can see that small-time, individual landlords own nearly half of all rentals. These landlords don't have the luxury of thousands of units and extra working capital like we do. CNN even did a story about small-time landlords becoming homeless because they were running out of money!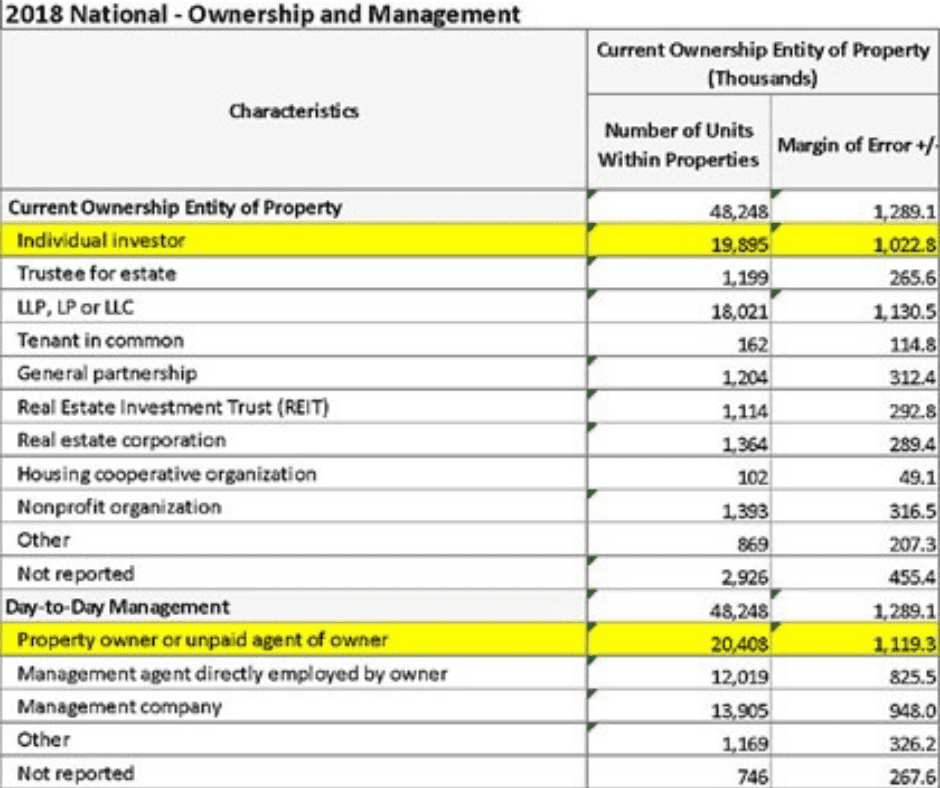 Combined with the anecdotal evidence I discuss below, I believe this "edict" was at best a well-intentioned idea that isn't achieving the goals it set out to accomplish, and at worst, has actually precipitated the very thing it purported to prevent.
First let me say that I think it's important to be compassionate and help those who are less fortunate. To that end, last year at the beginning of the pandemic I let every one of our onsite management teams know that if a resident needed assistance to pay their rent and was legitimately affected by COVID-19 through a job loss or other related situation, I would pay their rent for them. This was a personal decision, and it wasn't a publicity stunt.
NOT COLLECTING RENT IS UNFAIR TO ALL
To me, not collecting rent is unfair to everyone. Doing so is essentially transferring the economic distress of residents to the property owner by either taking from our owners/investors to give to the residents or cutting services at the property to pay the mortgage. Neither work. But I do believe we can all personally look for ways to help our fellow man when we are in need.
In addition, we provided hundreds of residents at each property with a local resource list of organizations (both public and private) who provide rental assistance. Our goal has been to keep our residents in place and, if necessary, help them pay their rent so we can stay in business. A half empty property or a property that doesn't have money to pay its ongoing bills becomes a dangerous property very quickly. Squatters move in, violence goes up, and good people move out. This harms the paying residents – but also the community/society as a whole.
EVICTION MORATORIUM-HOW IS REM DOING?
To my knowledge, none of our residents have become homeless – that's a good thing! We have helped many of our residents stay in their apartments and many others move to a more affordable apartment (in some cases even paying for their moving expenses). And for the most part, we've been able to weather the bad debt situation fairly well – with the exception of a couple properties that were hit especially hard.
OUTCOMES OF EVICTION MORATORIUM
The ongoing outcomes that I've seen from this eviction moratorium, however, are very concerning. We have an increase in the number of applicants whose decision to not pay their rent negatively impacted their credit scores. We also see that most of our current residents who claim the eviction moratorium use it as an excuse not to work. Job openings across the country are going unfilled – hurting both the economy and the community. When people don't work, there's usually an uptick in theft and violence. Our hope is that the CDC will not extend the eviction moratorium again. Because based on our observations, another moratorium would cause significantly more damage (both physical and psychological) to the health of our residents, our communities, and our economy.
A BALANCED APPROACH
I think we've tried to take a balanced approach to the situation – be compassionate on those who are genuinely in need, expect our residents to work hard and pay their rent, and pre-qualify our new residents very carefully. We've continued to invest in our communities so that they remain safe despite the challenges we've faced. The past year or so have presented many challenging situations for our nation (and the world) – opportunities for thoughtful solutions. We plan to continue to do our best to create helpful solutions as we renew our world one community at a time.
I trust you'll do the same in your community and your own personal life this week! Here's to fighting the good fight!