Avenue33 Apartments, Pending, Atlanta, GA
---
Happy Tuesday and welcome back! I trust you had a memorable weekend and were able to take a moment to honor the memory of those who have given the ultimate sacrifice. I know I take our freedom for granted – so Memorial Day is a great opportunity to really try to make it a point to remember and honor those who have given so much. I think it helps us keep our priorities in the right place.
As we push ahead with finding new deals and building our investment portfolio it's crazy to think that folks in other parts of the world are fighting for their very survival. Even with all the drama that is going on here in the USA, I'm so thankful to have the freedom and opportunity to do what we love – find and operate great multifamily properties.
ATLANTA OPPORTUNITY KICKOFF
After nearly two years and many offers, we're excited to be expanding our footprint in the Atlanta area. This B-class property sits in an up-and-coming area with tremendous job growth and the potential to achieve A-class rents with property management.
Highlights:
Currently achieving $200-400/mo rent bumps
Projected returns 10% COC and 15% IRR
Opportunity to address deferred maintenance items and bring the property back to A-class
Closing July 2022
UNCERTAINTY BRINGS OPPORTUNITY
There are a couple very interesting things happening in the CRE (commercial real estate) market right now:
Investors are feeling less confident.
Locking in debt is very costly.
Industrial is cooling as anecdotal evidence that inflation is also cooling.
With the highest inflation we've seen since 1981 and the prospect of continued rising interest rates, things are a little dicey. As you can see from the chart below reflecting investor sentiment, things started to go downhill at the middle of 2021 and fell off a cliff last quarter. People are worried. Whenever you see these wild swings, you know it's emotionally driven and that's what can bring opportunity for long term investors like us. As I've mentioned before, I think we may have a 6-12 month window of opportunity opening before the economy gets back on track and pricing goes back to "crazy."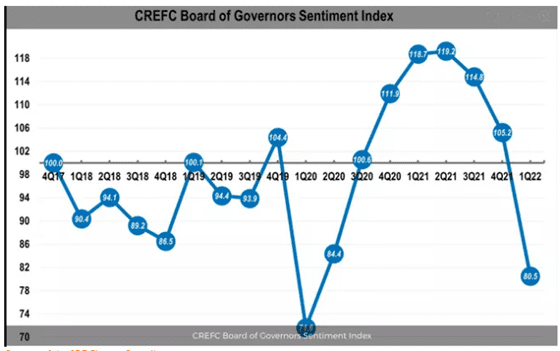 We're also seeing a wild swing in the cost of rate caps. If you were to price the same cap today versus a year ago, you would be looking at a 1000-1500% increase in price! Now let's talk about inflation!! Furthermore, agency debt, the typical product of choice for most multifamily investments, has become second tier to bridge lenders because their cost of debt is even higher. But many investors are uncomfortable with the shorter term debt and the cost of the rate caps associated with locking in that cost of debt which has caused some to move to the sidelines. Less demand creates opportunity for those who are still active!
As an aside to this conversation – check out the chart below. The gray dotted lines are what we call the "forward curve" – it's essentially the pricing expectations at a particular point in time for the cost of a rate cap. Notice how it almost NEVER lines up with what actually happens in the future. About 80-85% of the time, these forward curves are wrong. So if anyone suggests that forward curves are predicting the future of interest rates, show them this little graph!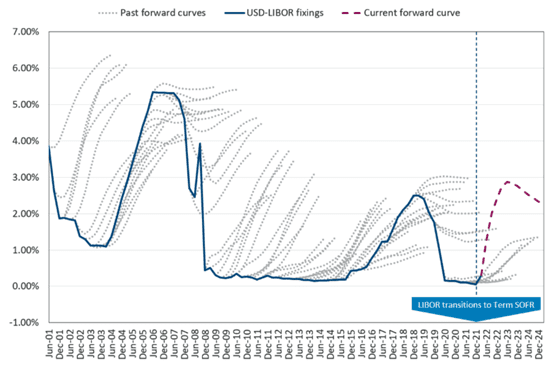 Last but not least, Amazon has announced they are cutting at least 10 million square feet of space to re-balance their post-pandemic needs. While this is a relatively small amount compared to the total space they've added over the last 2 years, I think it's a small piece of evidence that things are leveling out and we are going to see more stable growth going forward. But some folks see this as the beginning of a massive contraction.
I think it's a positive sign that we're getting back to a more sustainable level of growth (i.e. lower inflation). These uncertainties can create fear or they can create opportunity if understood in the right perspective. Here's to continued thoughtful investing!
Thanks for reading. Have a great week!