Welcome back! Hope you had a great Labor Day weekend! Feels like Monday, right? Short weeks like this are always interesting – trying to cram 5 days into 4. Last week we dodged Idalia on its way up the west coast of Florida as it strengthened into a strong Cat 3 hurricane. None of our properties were seriously affected. Mostly some heavy rain and wind gusts but thankfully nothing major. Parts of northern Florida were not so lucky.
I'm excited about the week ahead because we're pushing out investor property updates and based on my review of the portfolio, we've seen some continued stabilization of the portfolio as we get further past the rent relief debacle. Our leasing CRM continues to perform well and overall conversion rates are up.
A huge shout out to our teams who came in under 2% for delinquency in August!
North Creek, Dallas, TX (0.0%)
Cottonwood, Dallas, TX (0.9%)
Bayou Oaks, Sarasota, FL (1.46%)
Millennium, Dallas, TX (1.6%)
We're on our way to having all 24 properties in this category. We had some pretty close runners-up too.
Villa Nueva, San Antonio, TX
Fairfield Lakes, Beavercreek, OH
Tracks, Seymour, IN
On the flip side, we've still got some pretty stiff headwinds to overcome. Insurance costs continue to mushroom, tax appeals are slow, and competition is heating up for available, qualified, and paying residents. I'll talk more about the portfolio review next week.
For this week I wanted to focus on some data I came across further supporting my thesis that now is the time to be digging into new development (pun intended).
Why We're Building Now…Massive Rent Growth in 2025
I wanted to highlight some interesting data about the current state of apartment construction in Texas, particularly in the major metros. We have observed a significant plunge in construction starts, indicating an expected decline in future delivery volumes starting in 2025. Because of this, the downward pressure on rent growth, which is currently driven in part by the increase in supply, is likely to be temporary.
This decline in construction starts is a crucial factor to consider as it will have a direct impact on the rental market in the coming years. With fewer new properties entering the market, the competition for available apartments is likely to intensify. This is why we're pushing so hard to get permitted and break ground on these developments that we're working on. I believe 2025 is going to be a perfect year to bring new product to market.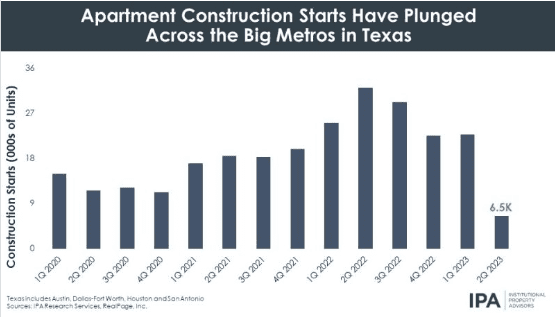 Interestingly, there has been a remarkable rebound in renter demand. In the first half of 2023 alone, over 17,000 apartments were absorbed in the major metros of Texas. This is a clear indication that the market is bouncing back from the net moveouts experienced last year. Furthermore, as sentiment among renters strengthens and household formation continues to rise, we can expect even greater absorption rates.
The current downward trend in rent growth is not expected to last. As the existing supply is gradually absorbed by renters, the market dynamics will shift, leading to a potential surge in rent growth. Looking ahead, the upcoming spring 2024 leasing season holds promise for even more notable rent growth. By then, it will become evident that future supply is being reduced, which will further contribute to the increase in rental prices. By early 2025, it is highly likely that rent growth will surpass the long-term average and return to higher levels.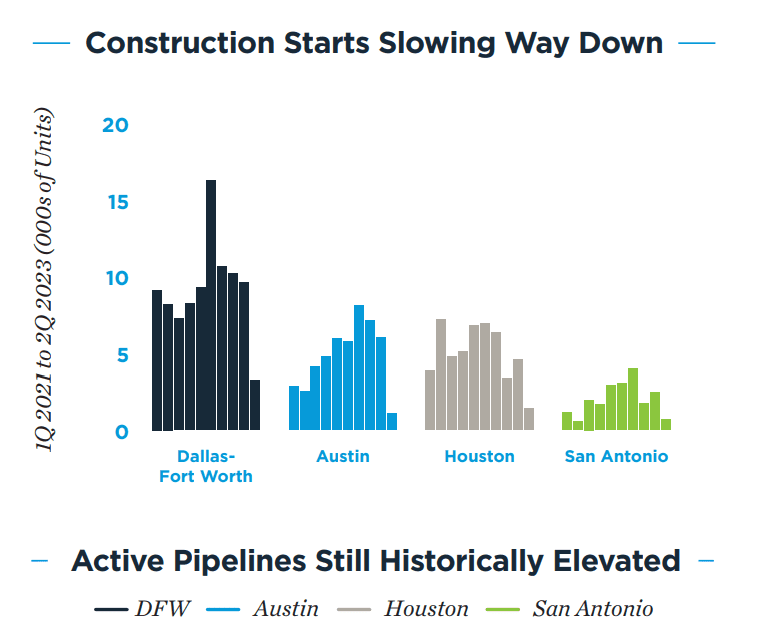 All that being said, we're continuing to push forward on several fronts to capitalize on this scenario:
Lumin, San Antonio, TX (264-units) – completion 4Q2024
Lambent Ranch, San Antonio, TX (815-units) – phase 1&2 completion 1H2025
TBD, Mansfield, TX (252-units) – completion mid-2025
The Law Of Unintended Consequences
Last week one of our RVPs, Luke, was at the courthouse working on a few evictions for non-pay. We had several people who were extremely delinquent on their rent and we were finally able to get them on the docket. And guess what – the court agreed to pay in excess of $21k for back rent on the residents we were evicting. Yep, you read that correctly – the court paid the bill.
Let me just stop right there and say that I'm very thankful that we got this money. But at the same time, I feel like many of the folks we deal with (including the courts) have a subtle bias that basically says "rent is an option, not an obligation." For a company like ours which spends millions on improving the condition of our residents' homes and actually takes action when requested to make improvements by the city, this societal indifference toward paying rent is a lose-lose.
Now, you might think – wow, that's a really nice thing for the court to do. And in a world where people take personal responsibility for their actions, this could be a great benefit. Unfortunately, we are working with a certain demographic that has very little personal responsibility. In fact, this well-intended action by the court will accomplish a damaging unintended consequence (as it has been doing for 2 years now across the entire country). First, these people will tell their friends/neighbors what happened. Second, many of their friends/neighbors will see it as an opportunity to do the same (thus causing a multiplying effect of the same behavior throughout the community). And for those who are genuinely trying to pay the rent, they feel the unfairness of it all and they feel taken advantage of – "Why should I work so hard to pay rent when these people are just getting bailed out like it's no big deal?"
It's a huge problem and creates a disincentive for folks to pay their rent. Given that housing is THE most capital-intensive basic need in our society AND that we're short on housing, does this make logical sense? Public policy must be guided by thoughtful and holistic feedback or it just contributes to the problem.
I'll get off my soapbox now. Thanks for reading and have a great week!!